Honda CB600F Review: Life in the Red Zone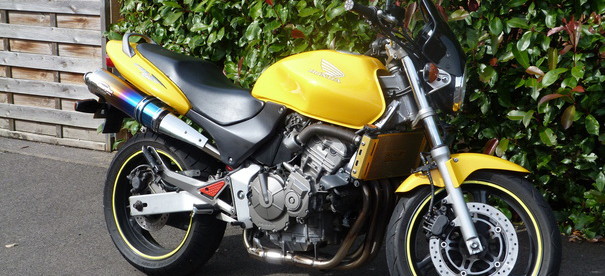 The Honda CB600F – AKA the Hornet – is something of a phenomenon. Introduced in 1998, trillions have been made (we exaggerate, but you get the idea). A major refresh took place in 2000, improving stability, steering and braking. Further changes followed in 2003 and 2007.
A naked middleweight, the bike, with a relaxed riding position somewhere between racing crouch and tourer-upright, has a huge following. This is shown by the numerous forums and owners clubs, including the excellent 'Hornet's Nest'. But why is it so popular?
There's no easy answer except one that sounds a bit vague, but is in fact completely accurate; with the Hornet, Honda did what they've done so often – produced a bike that goes, stops, handles and keeps doing it in a way that makes its riders grin from ear to ear. It's one of those designs where utility, appearance and pleasure come together in a perfect union. Form following function in a never ending circle. Those Honda boys done good.
The essence of the beast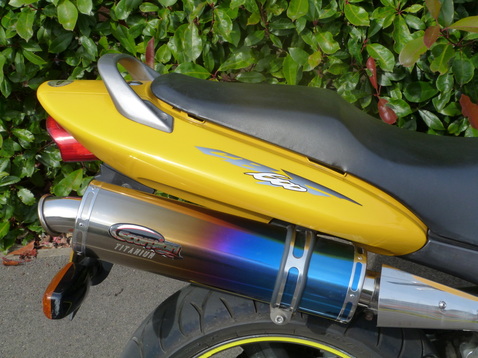 The engine is a feisty liquid cooled DOHC 16 valve across the frame four, borrowed from the CBR and putting out 95 bhp (102 for later models). It's got a rev happy character that rewards good use of the upper reaches of the dial and frequent gear changes. This generates an involving and exhilarating riding experience, but also hammers the fuel consumption, made worse by the extremely small tank. In standard form the bike will embarrass much larger machinery and hit a true 130 mph.
But the Hornet is much more than a nippy little naked funster. It has genuine all round abilities and the bond that quickly forms between machine and rider means that many clock up significant mileages. There are many 'all-rounder' bikes and the label has become something of a euphemism for 'worthy but dull'. Not so with the Hornet. It's practical, long lived and exciting with it.
Keep it spinnin' and you'll always be grinnin'!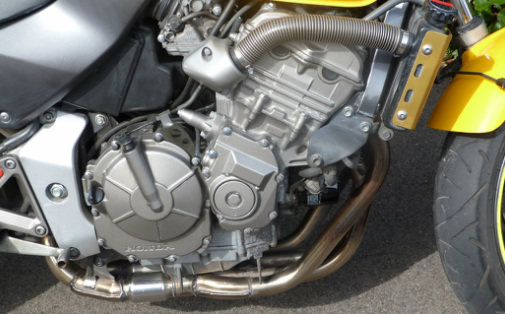 Bumble to work with that Monday morning feeling or blast round a track full of adrenaline; whatever mood you are in, and whatever the circumstances, this bike will make you smile so much your mates will wonder why your head doesn't fall off.
Low down power (1000 to 6000 revs) is best described as moderate – just right for that town ride or relaxed cruise to the coast. Gearshifts are necessary fairly frequently as the Hornet loves revs. The shift however can be a bit clunky. It's a common issue, but can be resolved mainly through a positive but light technique.
But when the urge to twist the throttle strikes, and the revs climb above 7000, the bike changes character, launching forward with a peaky roar all the way to 14000 red line. In fact the red zone seems to be the Hornet's natural habitat – the bike loves it more than a crazed adrenaline junkie looking for their 100th base jump of the day. As the Hornet's Nest owners' forum says; " keep it spinning and you'll always be grinning!'
Does it handle – oh yes..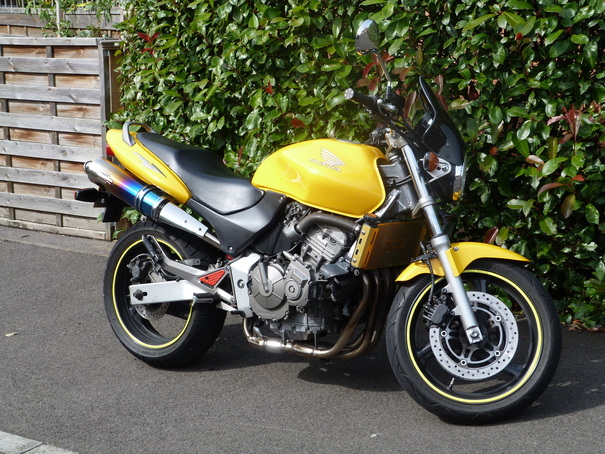 Handling is outstanding on dry roads; the rear monoshock helping to keep the tyre planted yet the bike agile. The machine sits low and alert in the corner like a lion waiting to pounce at the first sign of an apex. Grip is in abundance, lingering on and on as the bike keels gracefully and controllably over. No fancy technology just great innate handling, blistering acceleration and a ripe note from engine and exhaust. Man and machine totally as one! Riders of Fireblades will probably say similar things about their bikes – it's a Honda trait – almost a Honda miracle.
Modify to your Heart's Content…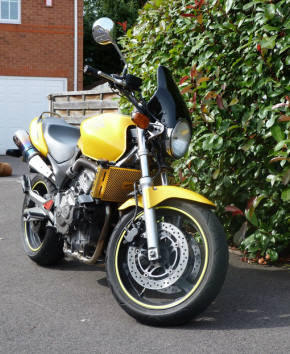 The thing about Hornet owners is that they love to modify and fiddle with their bikes; there are tons of aftermarket bits out there. Almost a whole industry has grown up around just one bike, from aftermarket cans to seats and endless bling.
Good mods are; replace the ugly heavy exhaust. A scorpion end can stubby or similar system (there are many to choose from for all budgets) will transform the look and sound as well as shedding more weight than if you gave it a vindaloo enema. Add to this a K&N air filter kit for £50.00, iridium spark plugs for another £60.00 and the horses will well and truly bolt from the paddock.
Living with it
The thing with the Hornet is that it keeps on giving. Reliability is excellent. There are a few minor quibbles of course; the regulator rectifier is a bit fragile and the cam chain tensioner is another week spot. Apart from that, my ownership experience has been more about being on the road rather than in the garage. In eleven years and 27,500 miles all it has needed apart from these items has been petrol, oil, water, brake fluid and the inevitable pads and tyres. One battery and that's it. Not bad.
Although it's something of a pocket rocket, in my view one reason for the bike's huge success has to be the outstanding value for money a rider gets. I need to make every penny stretch as far as possible but require a bike that still at the end of a working day, makes the office feel like a distant memory. The Hornet does that. Massive grin and the satisfaction of knowing that it does not break the bank. Servicing is cheap, insurance is too, only fuel consumption can be heavy, but only if you ever give really give it legs.
Re-sale Value
Good news too when you come to re-sell or trade up. It's not uncommon for riders to buy one then re-sell a couple of years later for close to what they paid for it. The reason for this is partly reputation and partly superb original build quality. The residual value in good honest condition means that the price reaches a minimum level and pretty much stays there. A couple of grand will buy you a whole load of fun.
Vital Statistics
Engine
Power
Drive
Top Speed
Fuel Capacity
Fuel consumption
Service intervals
Cost Now
BBM Overall Rating
Liquid cooled 4 cylinder 599cc DOHC four
95 bhp (102 later models) /
Chain
130mph
16 litres
40mpg
6000
£1,500-£9,000
**** (*)