Michelin Pilot Road Three Tyres – Riders' Review
Tyres are one of those perennial topics that always seem to come up whenever bikers gather, something that as a rule, does not happen with car drivers.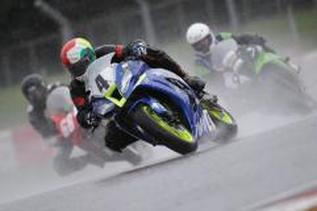 Seeing as a small patch of rubber is the only thing keeping us from seeing the next world a tad earlier than we'd like, perhaps its not so surprising.
At heart, we all have an interest in our rubber (steady, Matron); whether we want extra grip to have a safer commute, or whether its all about chasing lap times on your local circuit, you're bound to have a vested interest in what tyres you're bike happens to be wearing.
Next gen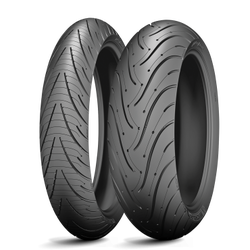 It's true that just about everyone has their favourite tyre brand or model – the subject is fiercely debated on forums – but on one we can all agree; road rubber is way better than it used to be.
Hailed as a 'next generation' tyre due to its advanced water dispersion technology, the Michelin PR3 is one of a new breed of general purpose road tyres, claimed to combine the virtues of high grip levels in all weathers with respectable tread life.
The following article is based on the experiences of a number of riders on a range of bikes; BMW K1300S's, K1200 GT's, R1100RS and the Kawasaki ZZR1400. All high performance machines, predominantly used for sport touring or general road riding, and all demanding a great deal from their tyres due to a combination of weight and power. This rider feedback has been combined with technical information sourced from Michelin.
How its Made: Dual Compound Technology
The new tyre has a dual compound construction (actually three compounds are used but only two on each tyre- front or rear – see above) meaning that the shoulders or edges of the tyre (the bits that are in contact with the road when cornering) are stickier, while the central part (in contact when the bike is upright) is harder.
This construction, which is now used by a number of manufacturers, combines the benefits of good wear resistance with grippy cornering ability.
The Technology..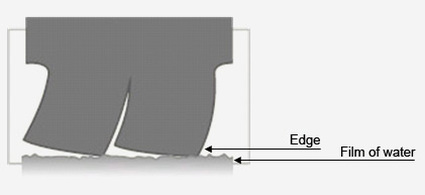 So far so good, though dual or even multi compound tyres are not new. But the PR3 does have a couple of features that are. Enough, say Michelin, to give it an edge, and especially in the wet.The Technology is based around 'sipes' – thin but deep slits cut into the tyre's surface.
When the wheel rotates, the sipes are forced slightly apart, creating a blade-like edge that acts in the same way as a windscreen wiper – sweeping water off the road and out of the way of the tyre.
Reservoirs
Curiouser and curiouser you might think… but the technical innovation doesn't stop there.
At the end of each sipe is a hole, which acts as a reservoir, temporarily storing and then releasing water. The effect of this is to increasing the draining speed of the tyre. More dry tyre is in contact with the road for longer thus enhancing wet grip.
Rider Opinion
As a quick perusal of bike forums on both sides of the Atlantic shows, There is no doubt that the PR3 has been well received. Most riders report good traction under power, excellent grippiness in the wet and exceptionally long tyre life. They are not the cheapest out there, but most people rate their Value For Money.
Riders used to touring or commuting machines are usually more than pleased with the overall grip levels, wet and dry, but sport bike riders, perhaps not surprisingly, find slightly less grip overall in hot dry conditions than one might get on a pure sports tyre, and slightly slower steering response.
Everyone raves about the PR3's wet weather grip, and that goes for all types and sizes of bike; no real surprises and pretty much backing up the manufacturer's claims.
Check out another rider's opinion by clicking the picture on the right to go to video.
Our Experience
The first bike we had experience of PR3's on was BMW's K1200GT. It came shod with Bridgestone BT020's – a brand new pair but an old tyre model put on by the selling dealer, not necessarily to save cash, but because they are actually the OE fitment.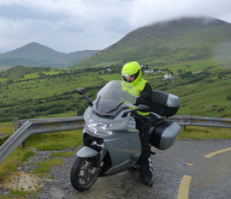 The old Bridgestone's were pretty awful, triggering the traction control when the bike crossed a wet white line. Feedback was not too good either, leaving us pretty unimpressed.
On a trip to Ireland the tyres caused the only buttock clenching moments of a two week tour. Then some kindly folks on the BMW Forum http://eurokclub.com/ ….. suggested PR3's and, for the next tour of the Emerald Isle, known for its damp climate, we had a set fitted.
It's a cliche to say so, but they really did transform the bike; what a relief! More feel, more grip and no more white line issues. Traction control remained inactive. They also seemed to turn in better. Several riders of the bike agreed that the improvement was marked.
The Big Zed
Then we bought the ZZR, and it was taken on two long trips, one again to Ireland, shod with Pirelli's. A puncture while there and a shortage of Pirelli replacements meant that I went for a complete pair of PR3s. My decision was helped by the fact that ROSS motorcycles gave me a good price, fitted them right away and Michelin gave me back a £25 fuel voucher for buying the pair.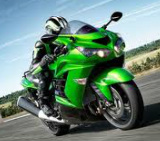 I've since lent the bike to my mate Graham here at Bigbikemad and we both felt that the PR3's grip was excellent in the dry, but in the wet simply amazing. It's been said before, but the experience really is like riding a dry road.
Confidence inspiring and grin-making it certainly is. For someone who finds wet weather riding unpleasant, these tyres could make the difference between going out or not, and in rainy old GB that's an asset. Its sobering to think that such technology was completely unknown back in the day when my first bike was a Fizzie, a time when most tyres would have been more use attached to a Thames barge than a motorcycle.
Verdict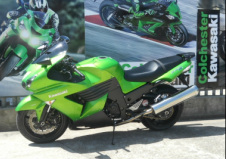 Wearing the PR3's, the big Kawasaki turns in quickly, yet is stable enough to hold a line over the bumps. Braking is impressively swift, with no stability issues even at lock up point when the ABS kicks in.
The only negative points are to be expected with any tyre on one of the most powerful bikes on the planet.
Under hard acceleration, the back end can be felt to squirm slightly as the Green Beastie hurtles to 60 mph is less than 3 seconds. Wear rates seem to be, if not rapid, then at least noticeable – even after just 1000 miles. A guess would be about 4,000 miles life for the rear and 6,000 for the front. But, on this bike, known for leaving a trail of burning rubber behind it, that actually seems pretty damn good.
So we can heartily recommend the PR3's. If you have a machine whose handling you have issues with – especially in the wet, then the message has to be; don't change the bike – change the tyres!
Given the fact that excellent performance seems to be matched by good mileage, any modest extra cost of the Michelin PR3 tyres seems more than worthwhile. First class.