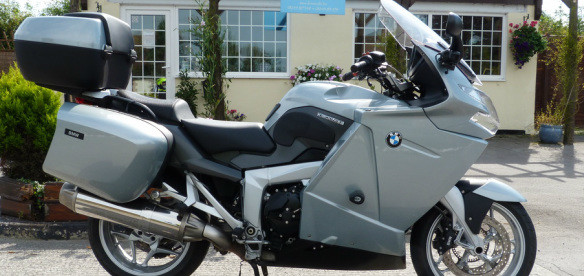 To us, the BMW K1200/1300GT is one of those bikes the Honda Blackbird – ones we can't understand why they stopped making. Far better than its porpoise-like predecessor; lighter and cheaper than its gargantuan 1600 cc replacement, the bike is also more civilized than the agricultural RT (for which we still nevertheless still have a soft spot). So the question must be; why on earth drop it from the range?
The K12 / 13 models are pretty much identical, the 1300 having a bit more mid-range, a tad more power and conventional indicator switches, but on the road there's not a lot in it – they are both great bikes.
Neither are what you'd call lookers, and perhaps neither has what you'd call 'soul'. But, in terms of covering the miles in comfort and with a great deal of pleasure, these are two of the best tourers ever made.
If long distance in comfort and effortless power in total luxury is what you want, then look no further. Prices since the 1600 came out are also stinkingly good.
Engine and power delivery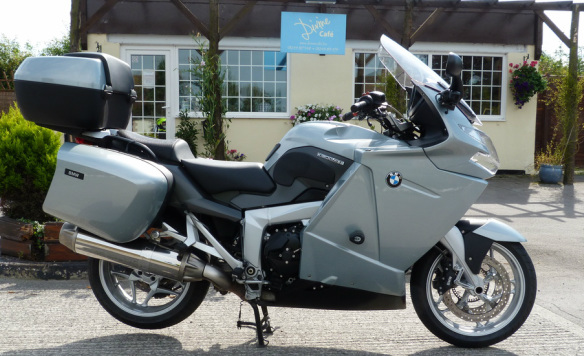 The K1200GT engine, a liquid cooled DOHC four, came from the extremely rapid K 1200 S / K 1200 R, and the 1300 continued that development. Packing 152 bhp in the 1200 form, it has always been a powerful mill. But the really clever thing about it was the way the cylinders were canted forward a whopping 55 degrees, keeping mass earth-worm low.
It's a great engine too. The 1200 has a slight dent in the power curve mid-range, but it's easily adapted to in riding style and never bothered us. Perhaps this is because the 1200 we rode was one of the later ones – a 2008 model with earlier glitches fixed. What we remember about the ride is the way we could fire ourselves ballistically out of corners and how howling overtakes at autobahn speeds made us giggle with delight. The 1300 was the same, just more so.
Yet the abundant power never seems threatening, just a willing servant always ready to obey. In fact, BMW have given the rider a licence–saving choice; below 5000 rpm the GT is relaxed and adequately torquey. You can bimble along at car-type speeds quite happily if the mood so takes you. But if you need to make progress to catch the ferry, then exploration of the upper reaches of the dial provides a rewarding surge of power all the way to the red line. Its soo smooth and soo fast. Just keep an eye out for blue lights astern…
This bike is made for riding..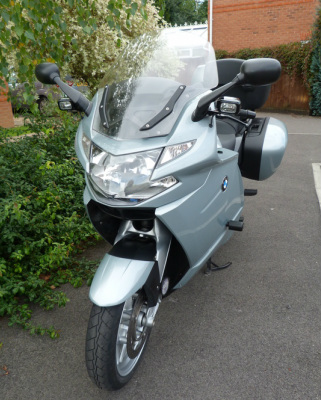 Mention of ferries is apposite – If you buy one of these then munching the miles is likely on your mind. The bike does not disappoint – in fact it is likely to broaden your ambitions…a brief trip to see friends becomes a county-hopping odyssey, a short weekend in Wales (in our case) became an impromptu trip to Ireland.
The bike is willing, and there are numerous luxury toys, from cruise control to a computer display (gear indicator, engine temp, fuel, tyre pressures, oil warning, ambient temperature, trip, suspension setting – the list goes on). Then there's the electrically adjustable screen – which does a fine job of taming the wind-blast. Up full for motorway and down in towns (the wind helping keep speeds to limit-like levels).
First Class travel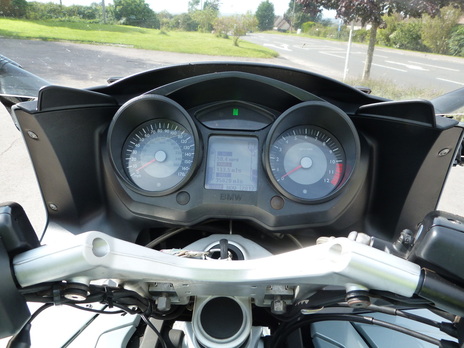 Adjustable seat and bars get the fit just right before you set off, while heated grips and seats – the pillion even has their own control – take care of unexpectedly bad weather along with the adjustable screen (a taller version is also available).
Saddle is OK, but we found an air-hawk really made an improvement. In short, the bike makes it easy for you – seemingly shrinking distances and giving you a real sense of travelling first class rather than slumming it.
Ride is incredibly smooth compared with competitors, and we put this down to the fantastic duo-lever front and para-lever rear suspension. Irish roads are always hard on bikes, but the Beemer seems to just iron the road flat – much less bumpiness getting transmitted to the rider, while tyre contact remains good. The GT's are planted and dependable, even when flung through corners at indecent speeds. Its a safe ride as well as a fast and comfy one – late braking in bends (oops) produces no wobble at all.
Of course you don't have to be heading off on a major trip to enjoy the bike. Luggage capacity and comfort can be great on a commuter too, and the BMW makes an excellent alternative to the car for the journey to work. Filtering it traffic is easier than you'd think and when you get there most of your bike gear can be tucked away on board. The astonishing fuel economy (see below) is another plus in the commuter role.
So many toys..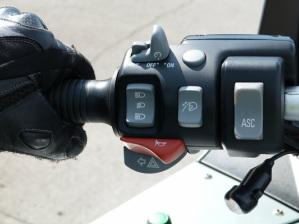 There are so many toys that control surfaces get crowded. This 2008 K1200 has pretty much the entire options list. Shown here; ASC (traction control), ESA (suspension – round button on top), cruise control, screen, lights and, unfortunately, the left indicator switch annoyingly close to the horn button. The K1300 did the sensible thing and replaced the idiotic BMW three button system of indicating with the familiar single button on the left bar. Thanks goodness for that.
Left handgrip area suffers from button overload.
(black dangly thing is terminal for optimate charger – battery is under fuel tank cover near handlebars)
Luggage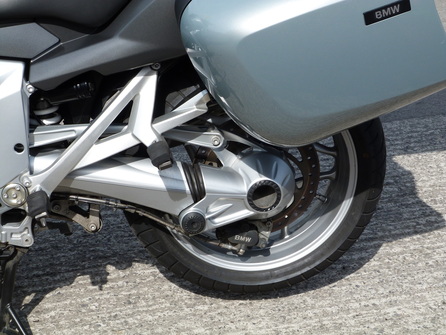 While the impetus to head for the horizon may have been an emotional one, the bike's sensible nature means that you won't have to travel light. Panniers and optional top boxes (we had the larger 49 litre one) are of superb quality – good finish, strong locks and totally waterproof, even resisting a three hour motorway stint in near apocalyptic deluge on the motorway. The top box comes with its own pillion back rest and, like the panniers, is easily removable to carry into your accommodation at the end of each day. A BMW tank bag is available, but if you want to use your own, remember that the tank outer is made of plastic so magnets are out…
Economy and Range
Another welcome aspect of the GT is its astonishing economy (if you are thinking of buying – then factor this in). Fifty to the gallon is easily and genuinely achievable (our best was 58) and a generously sized tank extends range to greater than average bladder endurance (OK about 220 miles).
Ample warning of fuel level is given by the on board computer which calculates consumption and gives you a mileage countdown when the one gallon reserve is reached. Quite how BMW have done this we don't know – but there is not another tourer out there that offers real performance with anything like this regard for your wallet.
Living with it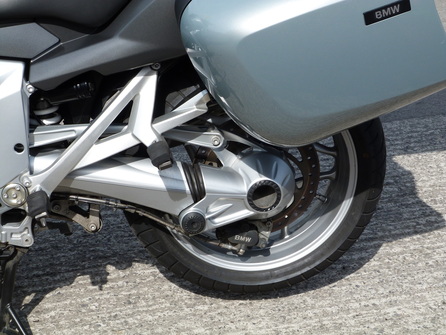 The big Beemer is not only long legged, its easy to live with. Reliability is excellent, serving costs very reasonable (see below) and fuel consumption so low its likely to save you a significant sum over a year compared with likely competitors such as Kawaski's GTR, Yamaha's FJR or the venerable Pan European (ST1300 if you are reading this in the US).
Owner maintenance is a real doddle; the bike hardly uses oil, tyres have built in pressure gauges (if specified) and final drive is shaft. All most owners do is wash it, put in fuel and perhaps hook up to an optimate (if you do you'll need either the can-bus version or rig up a connector direct to the battery).
Depreciation is steep in the first couple of years, like many other bikes, but then levels off a bit. Since the GT came out however all second hand prices have taken a hit – which is good news if you want to buy. A late 1200 or early 1300 can be had in the UK for £7,000-9,000 with full BMW warranty.
BMW dealer service levels are another reason to go German. Way better than many Japanese Brand dealers we think.
Servicing
Having heard stories about high BMW servicing costs, we spoke with the biggest BMW Motorrad dealer (not just in the UK, but in Europe) Yorkshire's Allan Jefferies. Having had a chat, we are happy to de-bunk the BM's-are-expensive-to-run myth.
Dan Scott, Jefferies' Serving Manager confirmed that the price of a basic service would be £129, with a major overhaul anywhere between there and £500. Jefferies comes out a bit cheaper than a few others, but even so, these price levels are no different to a typical Jap bike, and in some cases are cheaper (especially as service intervals tend to be on the long side).
Key Major service intervals are:
Valve clearances (due every 18000 miles)
Spark plugs (due every 18000 miles)
Air filter (due every 18000 miles)
Rear drive oil (due every 2 years or 12000 miles)
Brake fluid (due every 2 years)
Conclusion
The big K's are bikes that firmly put head over heart when it comes to practicalities. But this does not mean a dulled riding experience – anything but.The GT's corner, brake and go in ways that belie their slab sided looks. They are quick, comfy and safe thanks to excellent weight distribution, clever technology and quality components. The big K's are excellent and long lasting all rounders – capable of commuting as well as touring with minimal maintenance. They also makes great financial sense – a lot of bang for the buck- especially on fuel. Horror stories about servicing costs are completely unfounded and much can be done by a knowledgeable owner to keep the bills down. One thing is certain, whatever kind of riding you do, if you have one of these, you'll get there in first class comfort aboard a mount that reeks of quality. You'll be clearly recognisable by the grin on your face too.
Vital Statistics
K1200GT 2006 >
Engine
Power
Weight
Drive
Acceleration
Top Speed
Fuel capacity
Fuel consumption
Service intervals
Cost Now
BBM Overall Rating
1157cc, liquid cooled DOHC, 16v in-line four
152bhp / 96 ft/lbs
249 kg
Shaft
0-60 3.8 seconds
155mph
24 litres
50mpg
£5,500 – £8,500
****(.5)
K1300GT 2008 >
Engine
Power
Weight
Drive
Acceleration
Top Speed
Fuel capacity
Fuel consumption
Service intervals
Cost Now
BBM Overall Rating
1293cc, liquid cooled DOHC, 16v in-line four
160bhp / 99 ft/lbs
255 kg
Shaft
0-60 3.6 seconds
165mph
24 litres
48mpg
£8,250- £11,000
****(.5)
Standard Equipment
Hard saddlebags / panniers
Adjustable seat
Adjustable handlebars
ABS
Electrically adjustable screen
Immobilizer.
Brake pad wear indicator
Options
As you would expect with BMW the options list on both the 1200 and 1300 was enormous here's a summary, available for both bikes unless indicated. This is not exhaustive.
Heated grips
Heated seat
ESA (Electronic Suspension Adjustment.
ASC Traction Control.
Computer including oil level warning. Cruise Control.
Xenon headlight.
TPC Tyre Pressure Control
Top box (large 49L and small 28L)
Sat Nav.
Touring screen
Lower seat
Alarm
BMW Tank-bag.
Inner bags for panniers
Additional power socket.