2014 Harley Davidson Fat Bob Review
You need to put away some preconceptions when getting aboard the Fat Bob, especially if you have never ridden a Harley before. According to received wisdom (or at least the version kept alive by segments of the British motorcycle press), a Harley is a soft cruiser for old men. Harley's are outdated, underpowered, handle like hippo's on roller skates, and have, so it's said, velocity-challenged braking.
But the Fat Bob is none of those things and indeed across the Harley range, such sentiments are themselves becoming out of date. Somewhat to his astonishment, our Dave found the Fat Bob to be a good handling, well braked motorcycle more than up to coping with British roads. Above all the bike produced a brilliantly enjoyable ride – simple grin-wideningly fun. This verdict will come as even more of a surprise when you realise that Dave came to the Fat Bob fresh from the fastest bike on the planet – Kawasaki's ballistic ZZR1400.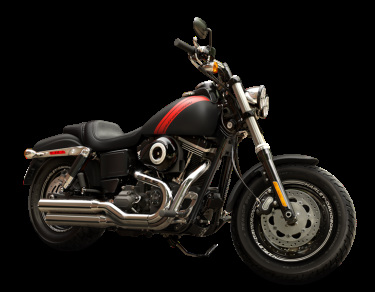 Initial clues that this might be more than a custom clone come from the styling. For a start, the bike looks more like a conventional motorcycle than a chopper from the workshop of Orange County.
Liberace-friendly chrome is replaced by cool black almost everywhere, which makes the bike look slimmer and more purposeful, something aided by the relatively slimline seat and straight pipes. Steering rake is moderate, the bars are flat and uncluttered and the twin headlamps suggest urban street-fighter naked rather than sanitized Californian cruiser.
Tires are of more conventional motorcycle dimensions with a 180mm rear and a 130mm front, and the wheels are the same 16 inch size front and back. There's no heel and toe shift, and at the rear a slash-cut fender embedded with a pair of owl-like eyes (rear lights) give a strikingly modern, almost technical feel.
What's it all about?
The ethos of the Fat Bob is that of a everyday street motorcycle, but one that prefers to just ride rather than to race or cruise. The bike enjoys travelling through the urban playground, seeing and being seen, rather more than it does than racing between traffic lights or around the ring road. No surprise there, but it also likes to remind you that you're on a real bike – somethings with a raw edge. The bike looks good in the urban role, but it's not just about pose value.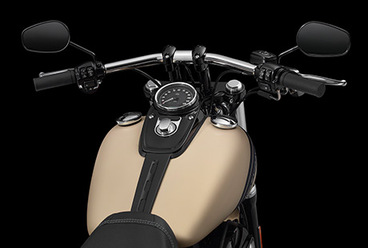 The Fat Bob is less about owning a brand and much more about riding a real world, practical motorcycle. It starts, goes and stops like any modern bike, has decent suspension and features a slick 6 speed gearbox. More than that, it handles surprisingly well, deals with corners easily and has enough grunt to overtake all but the sportiest of cars. It's mainly just the growl and vibration the Milwaukee power plant that let you know this is still in the broad nuts and bolts tradition of the Harley.
Engine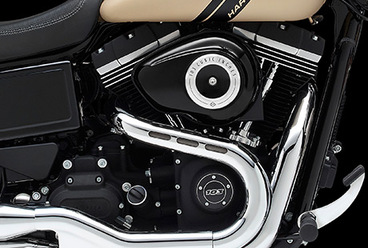 The Fat Bob's engine is the tried and tested air-cooled, twin cam 103 V-Twin, staple of the Dyna range, which displaces 103.1 cubic inches, equating to 1690cc in modern money. It's a good old-fashioned push-rod operated OHV, with hydraulic, self-adjusting lifters and 2 valves per cylinder. Fueling is by electronic sequential port fuel injection.
The mill produces around 78 bhp, though modest tuning can raise this quite nicely. The bike weighs in at a porky 305 kilos though, so the power to weight ratio of 3.9 kg / per BHP – to mix units a little) lies somewhere between that enjoyed by the Honda Goldwing (3.0 kg / per BHP) and Honda Deauville (4.8kg / per BHP)…not perhaps as bad as one might have thought…. but set the racetrack aflame it won't.
In any case, the interesting figure is the 98.8 foot pounds of torque the engine thuds out. That's about the same torque to weight as a BMW R1200RT – a bike known for its grunty pulling power as a tourer, and quite probably enough to rip trees out by the roots. When you look at it like that, your perception starts to shift.
Frame, Suspension, Brakes and Ride
The tubular steel frame achieves impressive rigidity, while the bars, moderate rake angle and fat tyres all combine to make the machine more responsive and controllable. If there's one old Harley cliche that really doesn't apply to the Fat Bob, it's the brakes. Harley have finally listened to their customers and 300mm discs up front grabbed by 4-piston calipers provide good braking that is fine real world standards. Outsmart Rossi going into a corner you won't do; but, while the stoppers have a slightly wooden feel, they do draw the bike up sharply and under control. Good job, guys.
Equipment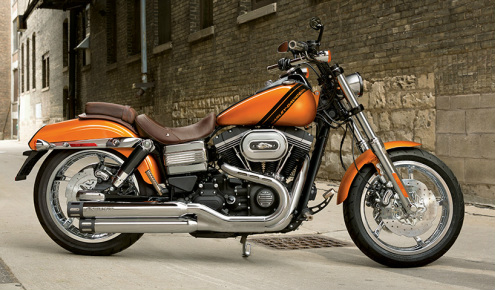 The essence of a bike like the Fat Bob is that it's as uncomplicated as black coffee. No one in their right mind would come looking for whistles and bells here. What you do get though are the H-D® Smart Security System (a keyless fob that arms and disarms the bike as you approach), a tank-mounted electronic speedometer with odometer, time-of-day clock on odometer, dual trip-meter, RPM/Gear display, fuel gauge with low fuel warning light and countdown feature, low oil pressure indicator light, engine diagnostics readout, LED indicator lights and 6-speed indicator light . ABS brakes are an option.
Unfortunately, while the speedo is fine, the tacho and other features are on a small LCD display that is just too small to see properly. No problem with the fuel gauge though as this is tank mounted on the opposite side to the filler cap. Dave hated the indicators, which are a one-on-each-handlebar job with self cancelling. On a simple bike this seems an unnecessarily complicated arrangement.
The Ride
Sling your leg over the Fat Bob and most people, girls as well as guys, will get their feet flat on the floor thanks to a low seat height of 663mm or about 26 inches. Put the key-fob in your pocket, switch the chrome (OK, there is some chrome) ignition switch on and fire up the motor. And Lordy – how this thing does shake! No need to buy the wife a new juicer – just put a glass of fruit in the top of the engine and in five minutes it'll be fruit smoothie.
Despite a balancer shaft and rubber mountings, acute vibration is probably the one area critics still have something to moan about. But then again, Harley fans will tell you this is 'character', and, up to a point, they're right.The bike feels alive in the way that a Jap four just doesn't.
Despite shaking like a rat that's seen a dog, the bike snicks neatly into first, and with a gentle twist of the throttle grip, you're away. If you're not used to a feet-forward riding posture the first couple of seconds may be spent frantically searching for somewhere to put your feet, but once you find the forward-placed pegs, the riding posture is laid back and surprisingly comfy. Controls work neatly and easily.
As you'd expect from an engine that makes its peak power at just 5,000 rpm, there's not much to be gained by thrashing the long-stroke engine, indeed the abundance of low-down torque makes you inclined to short-shift. No reason for the 6th gear really – except on the motorway (or Freeway) as a fuel saving overdrive, it's all but redundant.
Against expectations straight-line performance was fine – easily good enough to outpace most cars and get away quickly from the lights. It can chug happily up the steepest of hills without downshifting but can also lift up its skirts and scurry indecently fast along a dual carriage way.
While the 305 kg weight is one reason the bike wouldn't win a race, the effect of all that iron is similar to that of the vast mass of 1970's Jags – a well damped smooth ride that's actually pretty luxurious compared with a typical naked Japanese bike. The seat is comfy too – at least for the rider. If you want to carry a pillion you'd best budget for an uprated seat though as the rear perch is big enough only for a budgie.
The ease with which the Fat Bob surges on a tidal wave of torque means that it's a joy to burn off cars coming on and off roundabouts. Take them in 3rd or even 4th and pick up is seamless. Thereafter 80 mph comes up on the speedo surprisingly fast. No point in trying to compete with a sportsbike in the unofficial street GP in this regard, but then again, you wouldn't buy a fat Bob to do that.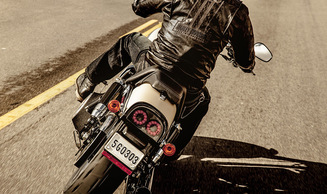 The bike returns mid-40s mpg, and has a 19 litre or 4 gallon (Imperial) capacity tank. This gives a practical range of 130 miles or so before filling up, which is fine for the kind of weekend recreational riding the bike is likely to do.
As speeds rise, you'd expect the rider of a laid back naked bike to be streaming back from the handlebars like a pink banana. But it just doesn't happen. Despite not having a screen, the Fat Bob remains untroubled by buffeting until well over the legal limit. This seems to be because the rider sits in, rather than on the machine, being screened from on rushing air by the clocks, headstock and lamps at the front. Against intuition and probably the laws of physics, the bike manages to be less troubled by turbulence at 80mph than my fully faired ZZR1400.
Cornering took a couple of minutes to get used to but this isn't some kind of backhanded complaint. Riding the Fat Bob you just learn to steer literally by the seat of your pants rather than leaning as on a conventional bike. But the centre of gravity is low and ground clearance on the fat bob is enough to prevent touching down at all but the daftest speeds. It's just a bit different is all.
Does it corner? Er, yes it does. And it changes direction fluidly and without a shudder or shake. Naturally the Fat Bob is better on fast sweepers than mountain hairpins, but even on sinuous country s-bends in the UK, it works just fine. Can this really be a Harley?
Buying it and living with it
The bike has an RRP of £12,895, which you could say is expensive given the somewhat basic equipment level. On the other hand – how much is your weekend fun really worth? In the end it's a purchase made with the heart and not the head, and in any case there are plenty of second hand models to be had.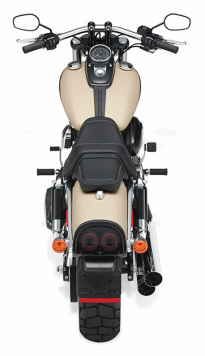 Routine Maintenance looks straightforward enough, although service intervals are a shortish 5,000 miles. Once the initial depreciation (say in years 1-3) takes a hit, low mileage bikes tend to hold value well. Reliability seems to be above average for a Harley and iscertainly acceptable by market standards, although head and wheel bearing problems are still a bit too common.
There's also the famous Harley social Scene, including Hog – the Harley Owners Group if that's your thing. And of course, if you've cash to splash, Harley ownership is pure heaven; tons of merchandise is available, including superb quality (but expensive) clothing and custom parts catalogues like phone directories. Many folks love cleaning, polishing and binging them up as much as riding them. And why not?
Conclusion
Forget the Harley badge, or what you've heard from Fast Blokes Magazine, this is simply a snortingly great ride. It handles well, brakes well and is as reliable as any other bike. Fat Bob is a friendly, comfortable and surprisingly naughty fella, with performance that'll keep you aviating along the blacktop ahead of the cars, even if you won't leave a trail of fire and melted asphalt behind you.
If your riding is about escape from the mundane and everyday; if you want to treat yourself to something gorgeous to look in a delightfully pointless and wanton sort of way; if you've a desire to feel the air rushing past your head and if you like the sound of a real engine, then the Harley is a good choice. Cobblers to the critics – chuck Fast Blokes on the fire – this bike is day-long fun.