Urban Cowboy? An Overview of BMW F700GS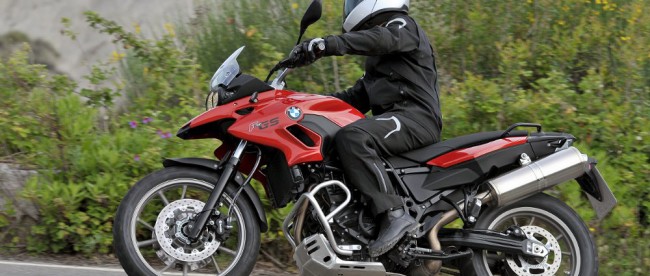 Introduced last year to replace the old F650GS twin, the F700 sits in the middle of the baby GS range which now comprises the F650GS (a 50 bhp single) the F700GS (the bike under review, with (confusingly) a 798cc twin and 75bhp) and the F800, (the same cc twin but with 85 bhp). The differences between the 700 and 800 however are about far more than power output; longer suspension travel, more grunt and knobblier tyres make the 800 much more of a serious off-roader.
Despite PR pictures of the F700GS on gravel tracks, quarries and rocky seashores, the natural habitat of this Junior GS is most definitely the urban street, something that seems to be acknowledged by BMW's own promo video (click image right to watch). The theme might be Ewan and Charlie, but it's pretty much all for show; in fact the F700 is really a naked street bike with adventure styling.
However, while it's probably not the best tool for travelling the globe, you'd be wrong if you thought a lack of off-road cred makes it just a Bavarian poseur. Nimbleness, good brakes, a narrow frame and a stomping little engine make this a king in the urban jungle; cutting the commute and weaving sinuously through the herd of cars, jammed in together like steers in a slow-motion stampede. It makes an acceptable country boy too, the light weight and wide bars making B-road cornering grin-wideningly easy.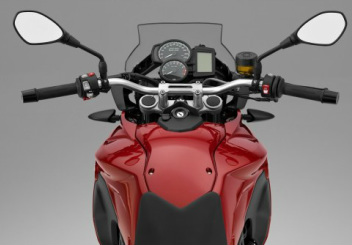 The Mechanicals
The F700 shares the same 798cc, 8-valve water cooled parallel-twin engine as the F800 but puts out less power (75 versus 85). The steel trellis frame of the bike is on show, giving the machine the typically technical look associated with adventure bikes. However, what seems to be the tank is actually a plastic fake containing the battery. The fuel sits under the seat, helping to usefully lower the centre of gravity.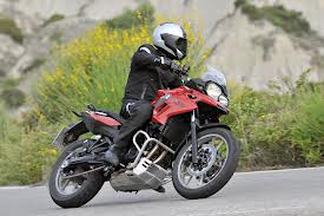 There's a beaky fairing, headlights that look like they're squinting and a host of other design signatures that are sooo GS. Seat height appears tallish on the spec sheet (just over 32 inches (820mm) with a 31 inch (790mm) low option), but the bike is slim and our 31 inside leg tester managed to get both feet flat on the floor with ease – so sit on one before you order the low seat option.
Suspension travel is one area where the adventure part of the bike is compromised most, with only 7 inches or so front and rear. Brakes however are much improved with an extra 12 inch (300mm) Brembo up front over the outgoing model providing decent stopping power. ABS is standard and transmission is via a 6 speed box – which is smooth and easy to use, something you could never have said about BMWs in years gone by.
Engine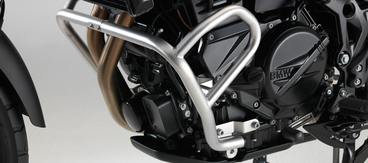 The engine is the tried and tested 798 cc water-cooled parallel twin with a DOHC 8-valve head and a moderately over-square configuration at 82mm bore and 75.6mm stroke. As you might guess it's a torquey little motor with most of the grunt in the middle of the rev range. Power tails off sharply at the top end so there's not much point in revving it hard.
Equipment
The basic model sells for an RRP of £7680 in the UK, but the spec is, well, um, basic – you don't even get heated grips as standard. Instead BMW continues with its policy of reserving many items to optional packs. For instance the Dynamic Pack includes electronic suspension (ESA), tyre-pressure monitoring and ASA traction control (£680) , while the comfort pack adds trip computer, heated grips, a centre-stand, and luggage racks for
BMW Vario bags (£490).
Riding It
The first thing about the bike that strikes you even before you move off is how narrow it (and the saddle) is – making it easy to get your feet on the floor if you're anything over 5'8′. The bars are wide and weight low, and the sitting position upright, so it comes as no surprise to find out that the bike's incredibly agile at low speeds, and the rider has excellent visibility. This makes it a fine tool for the congested urban commute. It's such a doddle to ride that the bike soon shows itself to have a bit of a naughty side, slipping into ever narrower gaps and even taking the occasional trans-pavement detour. Ahem. It was not me, it was the bike y'know.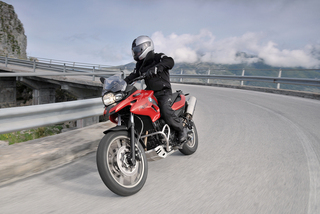 Optional crash bars are available. The grunty little engine with its pleasantly snorting exhaust (an Akroprovic is available for even more fruity fun) is also ideally suited for urban and inter- urban lane switching and overtaking. Like most GS bikes, this is a bike easy to become involved with. Despite changes to the gearing over the previous model though, the gears still seem tall – with a lot of work needing to be done in first and second. This doesn't seem to hammer the fuel consumption, as the bike resolutely returned over 60mpg no matter what we did.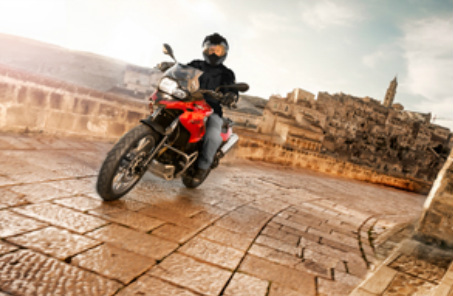 Things are different however when you take the baby Beemer onto a dual carriageway or motorway. As the horizon widens, the standard screen and fairing do little to protect the rider, who is exposed to a blast that makes sustained travel over 70mph a challenge. The engine pulls well up to about 90mph, but delivery is rather flat, with no exciting rush at higher rpm.
Acceleration is however quite acceptable one-up even at highway speeds – the bike is easily able to keep ahead of 4 wheeled traffic thanks to the flexibility of the engine. If someone does pull out on you however, the front stoppers have good retardation power, even if loaded of carrying a pillion.
Cornering at lower speeds is great fun on twisty lanes – very little effort is required to hoon around with the best of them thanks to the wide bars and low weight. Ride is also comfortable, even on rough lanes. However the bike is not so cosy as speeds rise, and becomes decidedly choppy when two-up. The seat also starts to feel like a paving slab within 50 miles or so, but an Airhawk would fix that.
Off road ability is pretty limited – we took it down some farm tracks, but on standard Bridgestone tyres it didn't feel settled. Showa Suspension can bottom out easily on big lumps and bumps.
Buying it and living with it
The bike is in a similar ball park price-wise to all of the competition save the surprisingly cheap Verseys (e.g. Tiger £7499 / V-Strom £7898 / Verseys £6549). However quality is better than average and we think it has more character than any except perhaps the nippy Verseys.
Given that the bike is cheap to insure and tax and that you can get over 200 miles out of the 3.5 gallon tank which costs about £20 to fill it's not bad value for something with the BM badge.
It's a bit early to start talking about reliability, although we did suffer one electrical fault in the first week of ownership which turned out to be a faulty switch. Replaced under warranty, this is a known problem. No problems with early morning starting (unlike our tester, Ed.) or smoothness of running, and it's off-road design means the GS is easy to keep clean with brush and hose. Our bike burnt no oil during the 1000 mile test.
Best suited for…
This is not the bike to tour two up on – power output would be lowish for safe overtakes if carrying pillion and luggage (though it manages a passenger just fine) and wind-blast would be pretty wearing. It's not an off-roader either, though it may look the part. But point this at the urban jungle, and the bike is in its element. Agility, narrowness, light weight and an economical and characterful engine would make an ideal commuter given a bit of cash spent on luggage.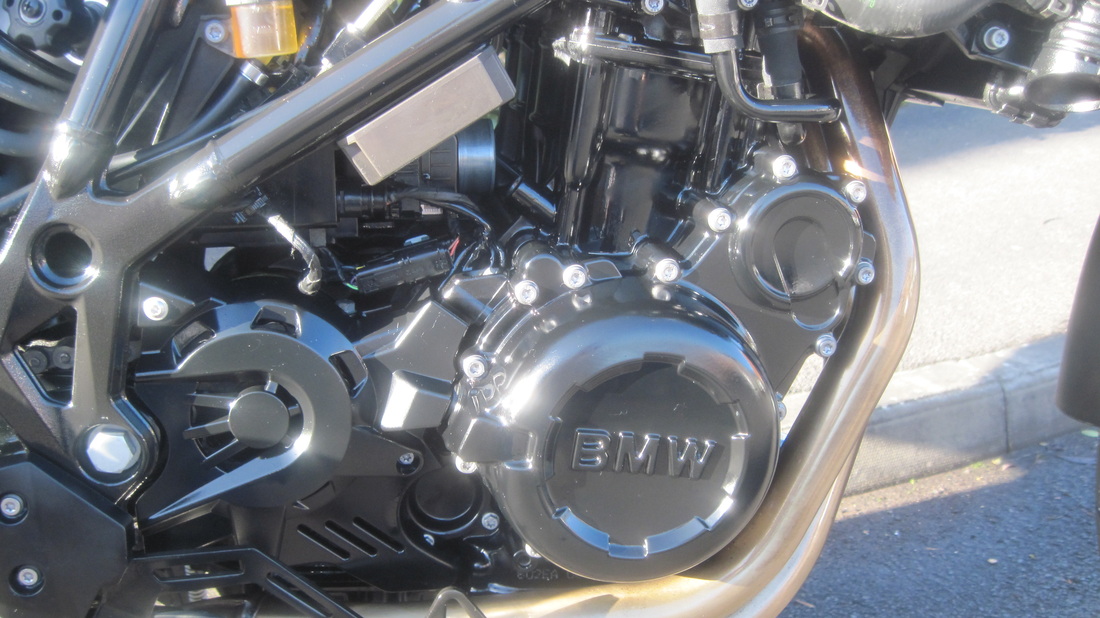 The F700GS is also an engaging bike with a friendly if not over-powerful engine. Responses to control inputs are rapid and accurate, especially at lower speeds. Light weight makes it amazingly easy to park and move around, while ABS and traction control add to safety. It's not perhaps as cool as the Triumph Tiger, and not as inexpensive as the Verseys, but this baby GS is fun, cheap to run, easy and relaxing to ride, turns and stops on a dime, and is an absolute ace in the urban rumble that is today's commute.