Honda Valkyrie to France; Normandy beaches and the Milau bridge
This is a tour report sent to Bigbikemad by Martin, a member of the UK VRCC. It covers a trip across France in 2011 aboard his Red and Cream 1500cc Honda Valkyrie with trailer. Martin runs his own great site – 'Bikers Under Canvas' dedicated to riders who like to put in the miles…. Click on logo below to go to his place.
I had tried to organise a trip into France for 3 years with the group I rode with.I had a wish to visit the beach in Normandy where my Father landed on D-Day. Eventually in 2011, the wife and I finally set off. Neither of us had been abroad before, neither spoke French and of course there was the 'riding on the wrong side' thing to think about. Once ferry and a couple of campsites were booked it dawned on us we were really going and the excitement began…
The ferry trip started early on a Sunday – all new to us cross- channel virgins. Fortunately the Ferry crew did a great job strapping the 700lb mass of the Valkyrie to the deck. Time for breakfast!
I had decided that when we rode off the ferry I would follow a French car, just to make sure I was on the correct side of the road. The ferry docked, the sat nav was set and we finally landed on French soil. We were riding in a foreign country, fantastic! Within a couple of miles I gave the mighty flat 6 some gas and we effortlessly overtook my unknowing guide – our confidence growing all the time. My first impressions of France was it was beautiful and the road surfaces super smooth – way better than those in England, and less traffic too. The two hundred and seventy five miles to our first stop in Normandy took until 8pm. But it was cool. A real sense of achievement for us.
On Monday we headed off to Arromanche-les-Bains, the beach where on D-Day, June 6th 1944, my Father, aged just 17, came ashore with allied forces.
Arromanche-les-Bains – Looking very different today than it did in June 1944..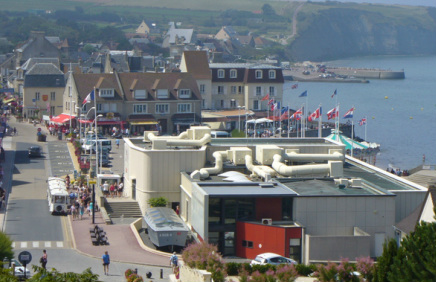 I looked at the souvenier shops and the busy crowds, and it didn't seem right to me somehow… I couldn't forget what must have happened in exactly the same place not that many years ago…
It was a strange feeling, wondering how my dad must have felt while under fire from the defenders of Hitler's 'Fortress Europe'. If he hadn't made it, of cours I wouldn't be here now.
Reminders of the past were not hard to find though…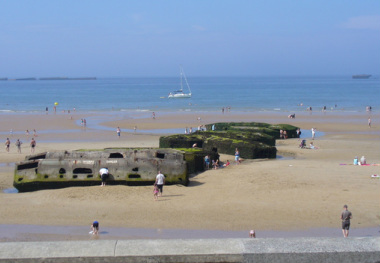 There were memorials and displays in the town remembering the landings – so they had not been forgotten. But most eloquent of all were the remains of the Mulberry harbours – concrete casments towed all the way from England to provide a man-made harbour where none existed before.
I stood in front of a memorial and said a quiet "Thank You" before heading back to camp.I got talking to the site owner who told me that the village we were in,St Martin-des-Besace, was the first village liberated by English forces and that the fields all around had been fought over. It gave me shivers that my Father might have been there too.
Riding through France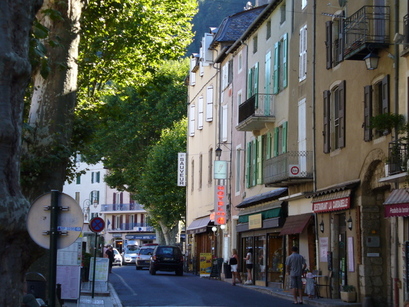 The next few days were spent riding about the contryside, seeing what we could find. Weather was superb and the countryside beautiful. We would stop for lunch at small villages or towns and sample some of the local cooking. Happy days.
Wednesday we packed up the tent and headed to our second campsite 300 miles south in the Loire Valley.This took longer than planned and we arrived after dark, the tent was put up by torchlight,we had a quick coffee and a snack then into bed.
Diesel Drama!
Saturday we were moving 250 miles further south to the Midi-Pyranese.It was very warm but pouring with rain as we packed up. We were late leaving and the rain was constant so progress was slow.
The rain had stopped but the road was still damp and as I went aound a traffic island my front wheel touched a bit of diesel and the Valk slipped. I managed to get a foot down and hauled the old girl upright, ripping the sole from my boot. My leg and ankle were quite painful so a mile or so down the road I pulled into an overlook.
My wife hugged me and thanked me for saving the day. I did a quick repair on the boot (I always carry a good adhesive).
A great welcome
The weather was hot and we always ride in leathers, so we had to make several more stops to take on fluid.
We hadn't booked a campsite and it was 9.40pm when we finally arrived at one.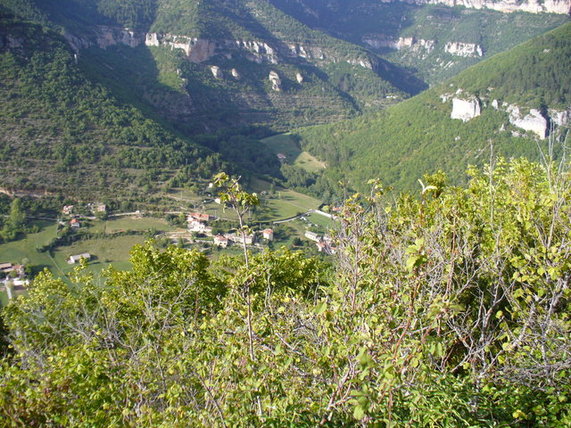 Although it was late, the owner came to meet us and re-opened the bar. He shook our hands and went on his way. We had a large pizza each which was very much needed. Great welcome!
The ride to this site had taken it's toll so Sunday we had a lazy day and just wandered around the huge site and lake, chatting to the French, Dutch and Germans. We were the only British couple and the only motorcycle on site. Everyone was so freindly.
Milau – not good if you get vertigo!
Monday we went to Millau to have a look at the highest road bridge in the world. On some days you actually drive above the clouds. The bridge was designed by British and French engineers and one mast's summit is 343.0 metres (1,125 ft) above the base of the structure.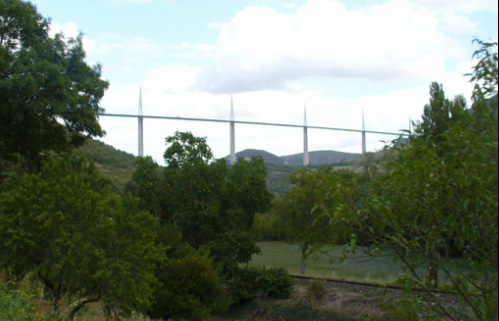 We had a walk around the town,something to eat before joining the road that leads to the bridge. I am scared stupid of heights and as we approached the bridge the wind was a bit gusty.
I am embarrased to say that when I saw the magnitude of the structure- the sheer height above ground…. I bottled it and swept down into a sevice area before the bridge! That was enough for that day and we headed back to camp!
Great views, great food, great memories…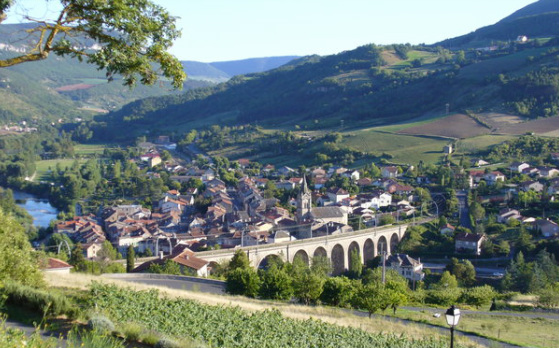 The countryside was beautiful – and the welcome had been fantastic. Even the weather had been kind (mostly).
The Valkyrie had performed brilliantly of course – toatally reliable and its burbling exhaust had become the soundtrack to our holiday memories. Brilliant.
The Return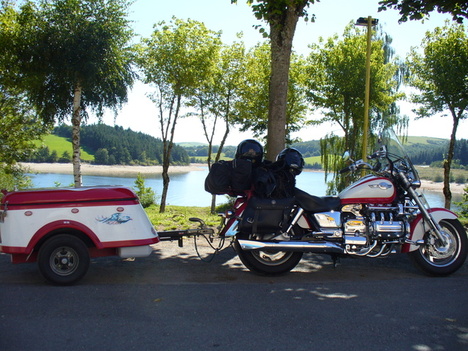 Thursday we had to pack up and head back towards England.We had a 750 mile ride back to the Calais ferry port which we broke up by staying in a couple of motels. The pic was taken just before we left the campsite in the Midi-pyranese. What a lovely place!
I found that the French people were very friendly and loved the Valkyrie.TRhey don;t have such a health and safety culture over there though – I stopped in a small village petrol station,filled up and went and paid. When I came out there was a French guy looking at the bike. 'Le moto est magnifique' , he said.
It was at that point I noticed he was smoking a cigarette, leaning on the petrol pump with a woman filling her car up 4 feet from him. I'm not a rude person but we did make a hasty exit!
We spent friday night in a motel near Paris and on the Saturday rode to the port in light rain.We left the motel at 8am and got to the ferry at 4pm,due to time zones,we got back to England at 4:30.We then had the 200 mile ride back home,we stopped for an evening meal and fianlly opened the door at 11pm, exhausted. The total mileage we covered was just short of 3000 miles. A great trip on a great bike!
If you like to travel yourself….
Visit a site dedicated to travelling bikers…