Kiss of the Cobra
Avon's AV71 / 72 Cobra is one of the best known cruiser tyres on the market, and, having had good results with it on our Valkyrie some years ago, we decided to refresh our memory with a dual test: fitting the latest version to both our Rocket III and Harley V-Rod project bikes.
Not only are these both heavyweight cruiser contenders – they put down a lot of rubber-shredding torque too – around 150 lb/ft in the case of the Rocket. If the Cobra can cope with this test, we reckoned it can handle anything out there.
We ran the Harley for 400 miles and the Rocket for 800 for this initial review – and we'll be updating this initial impression in due course.
It might come as a surprise to learn that next to race tyres, cruiser rubbers are some of the most challenging to design. There are many reasons you'd really want to avoid a crash on a cruiser; older riders and the presence of much easily damaged bling to begin with. But if you wanna build a great cruiser tyre, the laws of physics are just not on your side.
Where sportsbikes have light weight and good geometry, cruisers are heavy and with weight distribution far from the theoretically ideal front-end bias.They have limited ground clearance and put the rider is a body posture where it's harder to make refined control inputs.
Cruiser Rubber
There's more; with proportionately less weight over the front wheel, some people find cruisers more prone to following white lines or grooves. They also have larger rear brakes and this can more readily lead to lock up and fishtailing, especially in the wet.
Then there's the matter of grip versus wear – an issue for any tyre. But cruisers have unique problems.They tend to be ridden on straighter roads and at mild lean angles, so there's more risk of 'squaring off' from wearing away the centre of the tread. You might think that a harder centre compound and a softer edge one would be the answer.
But huge mass means that multi-compound technology just isn't enough. The entire build of the tyre needs to be varied to cope with the conflicting demands of highway cruising and riding the curves. Just up-scaling a normal tyre won't do. You gotta go right back to the drawing board…
Design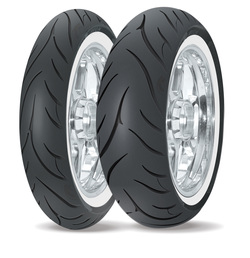 So how have Avon responded? Well, the first step was to create a strong carcass. Multiple belts including Aramid are used to allow the tyre to take a massive constant load of up to 660lbs.
More belts are used in the middle of the tyre, leading to greater rigidity at that point, so that wear is reduced while upright but the tyre remains supple and soft enough to deform when leaned over and, in doing so, smooch the road with a large soft contact patch. Yum.
A solid central groove is often found on cruiser tyres. This looks traditional and disperses water well, but can make the bike want to cling to white lines. Tradition was therefore abandoned in favour of a chevron-like tread, more like something you'd find on a sportsbike. This pattern also helps agility.
To allow a soft compound to be used but build in good wear characteristics, the tread is thicker than on most tyres – with deeper grooves. This is good news for your wallet.
While providing extra wide sizes (up to a 300 rear) including special fitments for Honda's Goldwing, Avon have given the tyre a well rounded profile (think 'large water melon') . This enables it to transition from side to side more easily, reducing the slowing effect wide rubber can have on steering.
For purely aesthetic reasons the tyres have a 'snake-skin' pattern on the sides and are also available with white walls. They come with a lifetime guarantee.
OK, but do they work?
Verdict
Based on relatively low mileages – the following has to be considered as first opinion only. But even so far, it's clear that the Cobra is a great tyre. Compared with the previous Sportmax Dunlops on the Harley and Metzeler ME 880's on the Rocket, turn in was noticeably quicker on both bikes.
The neat trick was that the tyres did this while improving straightline stability too. This was especially true of the V-Rod, whose light front end felt desperately vague when shod with the Dunlops. It wasn't perfect with the Cobras, but it was much, much better.
Traction was excellent – with enormous grip making it hard to spin the rear, even on the mighty rocket. Transiting in and out of a corner, from upright-to-lean-to-upright again was a real joy. The change was more rapid and yet smoother and more controllable too. It's no understatement to say that on both bikes handling was transformed. In particular there was no longer a turn-in lag on the huge 240 Rocket rear, probably due to the highly curved profile. Whatever input you dialed in, that's what you got out. Confidence-inspiring.
Wet weather grip was superb, but not faultless. Coming out of a bend our tester hit a patch of over-banding that caused a brief fish-tail on the Triumph. Hard not to get that on any tyre though.
Recovery was rapid and no-one ended up in the scenery. On the Harley, lock up was possible in the wet, front or back, but again, performance was better than before and we put the issue down to the inherent handling problems of the early model V-Rod we were using.
Wear looks be good, and we're estimating 5,000 from a rear and 8,000 from a front on the V-Rod, with slightly lower figures for the Triumph. It does of course depend how you ride….and we tend to ride 2 up and fairly fast. With prices for the Cobra being about £50 cheaper per pair on the Rocket against the Metzeler and around £60 cheaper against the Dunlop. While our bikes were fine, the only fly in the ointment that we've heard from some guys on Goldwing Owners Forum is some construction issues when the Cobra is used on a Goldwing. Then again, most tyres struggle with a 'wing.
So far then, a big thumbs up for the Cobra, but we'll be feeding back more as the test progresses…